Blog
>

Student Signwriters are Top Class!

I have run regular sign writing classes at my own Workshops at Midhurst in West Sussex, for a while now and they are as popular as ever- Signwriting skills are very much still in high demand and It's important to me at Osborne Signs that these skills are not lost forever to the computer generation.

The small one day informal beginners class is either a Saturday or Sunday, while the workshop is quieter and run from 10am until 5pm with a break for lunch and plenty of tea and coffee and friendly chat between the creative attendees.

The morning session is spent learning to handle a signwriting brush, Mahl stick, pallete and paint and leads into a basic block alphabet, which is the starting point for all hand signwritten lettering styles.

Its very much a 'Hands On' kind of day with plenty of practical instruction and practice and not too much chatter from the teacher!

In the afternoon Students get to design and paint their own small sign to take home, using their new found and honed skills from the morning class, and its always very gratifying to see the results thay all achieve in such a short time.

If you would like to know more about up coming classes and events- Click Here.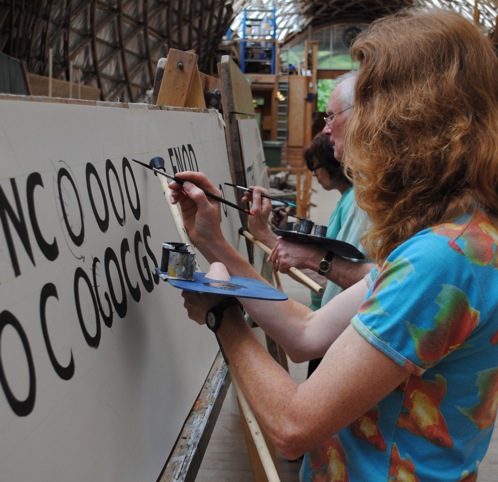 Also- if there is a particular skill you would like to learn, or see a class run to cover- Please let me know.